Sweet streak: How FSU 'new bloods' became a contender in annual NCAA basketball tournament
INDIANAPOLIS, Ind. – The Florida State basketball "New Bloods" just keep delivering postseason success.
With Monday night's 71-53 win over the No. 5 seed Colorado Buffaloes, the Seminoles are through to their third consecutive Sweet 16.
Compare that to the four total Sweet 16s FSU made from the time it launched its program in 1956 through 2017. Had last year's NCAA Tournament not been canceled at the onset of the coronavirus pandemic, this would quite likely be FSU's fourth straight Sweet 16, tying the previous total number of appearances.
Anthony Polite: Defense lead Florida State past Colorado to third straight Sweet 16
More:FSU coach Leonard Hamilton dealing with ruptured Achilles in NCAA Tournament bubble
"We're in a basketball conference with some of the most successful traditional basketball programs in the history of college basketball," FSU head coach Leonard Hamilton said after Monday's win.
"I'm not sure we're ever going to make up for the 75 or 80 years of the success some of the programs in our league has enjoyed, so we're trying to find a way to carve our own little niche out. I'm not really sure how long it's going to take us to be considered or if we ever will be considered in the blue blood status. We kind of coined our own phrase: We're new bloods. We're new on the block.
"We didn't get invited to the blue blood party, so we coined our own phrase of new bloods, of guys trying to earn the respect. It's not something we are overly concerned about, but we're proud of the fact we are making progress with our program."
What FSU has accomplished this season in light of what it lost off last year's team is remarkable.
The Seminoles lost a pair of players taken within the first 11 picks of last year's NBA Draft, Patrick Williams and Devin Vassell, as well as the winningest player in program history in Trent Forrest.
There were a number of players back and FSU was considered a likely March Madness team once again, but the Seminoles started the season on the fringe of the Top 25.
They came within one win of both their second straight ACC regular-season championship and the program's second ACC Tournament Championship, squandering both opportunities.
They made sure not to squander their Sweet 16 streak, defeating UNC Greensboro and Colorado to once again advance to the second weekend of the NCAA Tournament.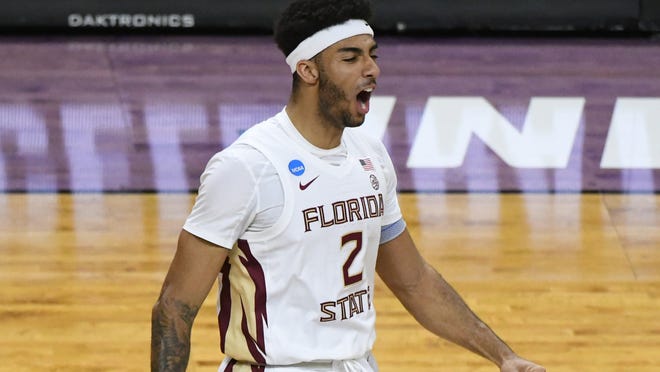 "It's been building and we just trying to keep that going and just try to play as hard as we can for Coach Ham and the coaching staff," FSU guard Anthony Polite said.
"They do an amazing job coaching us on the court and off the court, and you can see we play as hard as we can on the court. That got us here and we're going to keep pushing to go as far as we can."
Happy with win vs. Colorado, but not satisfied
Hamilton saw first-hand how the team's recent postseason success has changed its expectations Monday night. The team was happy about the win over the Buffaloes, sure, but not satisfied
"These guys are pretty focused and one of the indications is that nobody was jumping up and down and high-fiving or getting overly excited in the locker room," Hamilton said.
"Everyone was sitting there calm, focused, like we had been here before. That's the sign of a team maturing and with a purpose."
Seven ACC teams earned NCAA Tournament bids this year, but only two, FSU and Syracuse, are through to the Sweet 16.
Hamilton, coaching with a boot on his left foot after rupturing his Achilles, becomes just the fourth ACC coach to lead his team to multiple wins in three consecutive NCAA Tournaments.
The other coaches on that list? Duke's Mike Krzyzewski, North Carolina's Roy Williams and former Maryland coach Gary Williams, three of the four coaches with more career ACC wins than Hamilton.
Hamilton continues to establish himself as the most impressive coach in FSU basketball history. He's been FSU's all-time winningest coach since 2015 and now has 138 more wins than Pat Kennedy, who is second on that list.
Now, Hamilton has led FSU to four Sweet 16s over his 19-year tenure (2011, 2018, 2019, 2021). That's more than the three Sweet 16 appearances the other five previous FSU coaches led the Seminoles to combined.
"Hopefully in the next 80 years, somebody might put us in the blue blood category and we continue to keep having some success," Hamilton said. "I doubt if I'll still be around then, but hopefully they will look back and say that we contributed to the improvement and establishment of our program."
Asked about what he has helped accomplish at FSU after Monday's win, Hamilton wasn't ready to take the praise. With FSU becoming a consistent Sweet 16 team of late, he and the team have their eyes set on bigger accomplishments.
That starts Sunday when the Seminoles take on No. 1 seed Michigan ((22-4, 14-3 in Big 10) at 5 p.m. at Bankers Life Fieldhouse in Indianapolis with a spot in the Elite Eight on the line.
"We'll start looking at what we accomplish at the end of the season. Now is not the time to take any bows," Hamilton said.
"This is kind of where we are. If we are satisfied with just where we are now then I guess we can pack our bags and go home."
No. 5 seed Florida State vs. No. 1 Michigan
When: Sunday, 5 p.m.
Where: Bankers Life Fieldhouse, Indianapolis, Indiana
TV/Radio: CBS/101.5 FM
Reach Curt Weiler at cweiler@tallahassee.com or follow him on Twitter @CurtMWeiler.
No one covers the 'Noles like the Tallahassee Democrat. Subscribe using the link at the top of the page and never miss a moment.